Please Come to Our Next Event!
Marin Stables & Trails - Event Coming Soon! September 23rd, 2017
Please continue to check back here for more information about Marin Stables and Trails' upcoming event in September 2017.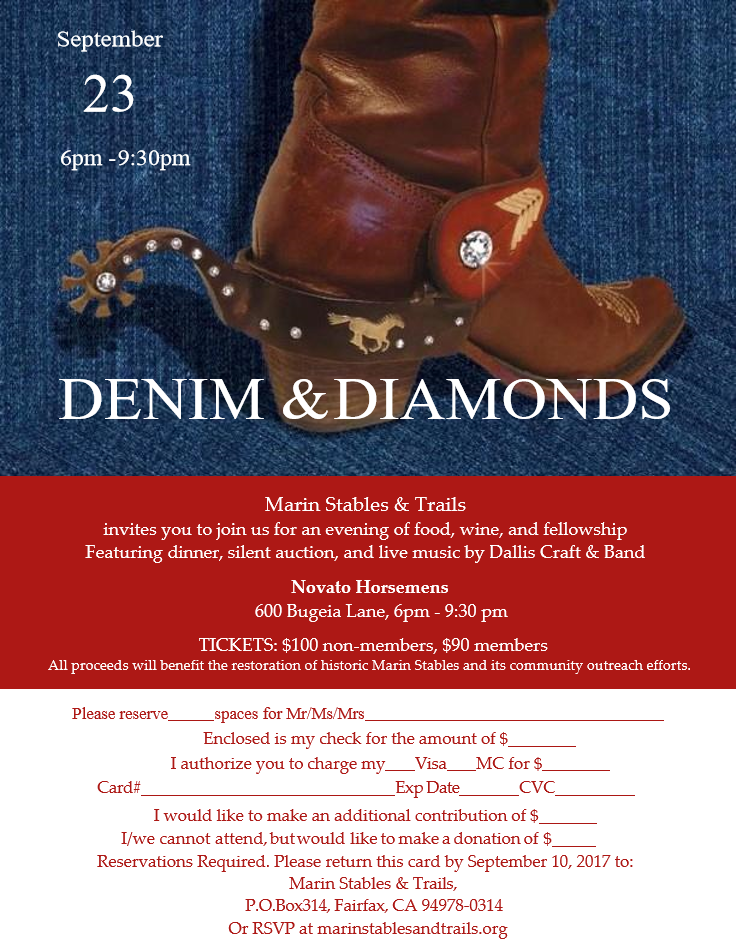 Click the form above to download and print or order tickets online with the drop-down menu right here.
News
To read our Spring 2013 newsletter click here.

Fire Devastates Marin Stables!
On March 3rd, 2012, Marin Stables experienced a devastating fire in the upstairs apartment, which was related to an
electrical malfunction on Wood Lane. Through quick observation and response by staff and the local fire department the fire was quickly contained to the upper living quarters with water damage to the lower living quarters, handicapped bathroom, hallway and tool room. All horses were safely removed according to our evacuation plan and there were no injuries sustained by humans or equines!
Marin Stables Rises Like a Phoenix From The Ashes!
In June of 2012, Marin Stables obtained a permit to begin demolition and the restoration of the fire damaged portion of the stables. Local contractor Robert Hartwell Construction was hired and it has been non-stop forward movement since then!

All the burned area was removed, preserving as much of the original redwood siding as possible, and then the reconstruction began with new framing, a new roof, windows, plumbing, and electrical. As of March 2013, the downstairs apartment, handicapped bathroom, hallway and tool room are completed and back in operation! The upstairs apartment is roughed in and enclosed with the fire wall and fire doors replaced, however, finishing it up for habitation will require more money than our insurance company paid out for the damages. We have mutually reached an agreement and have been successful at recouping a substantial amount of our loss and together with some careful budgeting and donations the dedicated employees of Ruff Spot, LLC, who is our concessionaire, can return to their home. These dedicated employees, who provided the 24/7 care for the equines housed at Marin Stables have been displaced from their homes for a year and although one has been able to return to his apartment, the other employee who lost everything in the fire has not. Your contributions to the Fire Restoration will help make this a reality! Thanks to all of you who have already donated!

Marin Stables Birthday Bash: 75 Years Young!
Along with the Golden Gate Bridge Marin Stables celebrated its 75th Birthday this past year! Marin Stables is the oldest
commercial barn still operating in Marin County.

We had a fun-filled day at the Barn in celebration of this historic date. It was wonderful to see old and new friends alike. A great time was had by all.

We enjoyed delicious food, music, and baked goods. Larry Risso manned our lucky spinning wheel and the auction was a huge success.